KELLY WATSON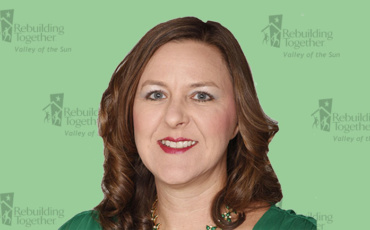 KELLY WATSON
Executive Director
E-mail: kelly@rebuildingtogetherphx.org
BRIEF INFO
Kelly joined RTVOS in January 2016 as the executive director. As a passionate advocate of the role safe and affordable housing plays in creating thriving communities, Watson's resume includes over 15 years of strategic planning, administration, communications and marketing, and fundraising experience in the nonprofit sector.
Kelly Watson, a veteran professional with more than 20 years experience in nonprofit leadership, joined RTVOS as Executive Director in January, 2016.
During her career, Kelly has provided organizational management, marketing communications, philanthropy program development and volunteer management services to organizations in Massachusetts, Texas, California and Arizona.
An outspoken advocate for preserving affordable housing and neighborhood revitalization, she believes a safe and healthy home is the foundation that supports all other aspects of an individual's ability to thrive.
Kelly is passionate about the role nonprofits play in creating opportunities for vulnerable populations and enjoys helping other nonprofits fulfill their mission. She has served on the board of directors for various arts and human services agencies throughout the years. She is a past member of the Junior League of Berkshire County, the Greggton South Rotary Club and has volunteered with Junior Achievement, the National Ovarian Cancer Coalition, the Juvenile Diabetes Research Foundation, St. Mark's Soup Kitchen, Hiway 80 Rescue Mission, The Salvation Army, The March of Dimes, and Habitat for Humanity.
She is a graduate of Kilgore College School of Journalism; earned a Certificate of Nonprofit Management from The Arizona State University Lodestar Center; and is currently working on a second degree in Organizational Leadership through the Colorado State University Global Campus.
In her free time, she and her husband enjoy spending time with their grandson, bicycling, and "glamping" with their airstream club.