Maintenance Matters
Are pesky chores like changing air filters and smoke detector batteries interfering with your golf game?
Let us help…Maintenance Matters is semi-annual home check-up program designed to prevent small issues from becoming large, costly problems.
Twice a year Rebuilding Together Valley of the Sun staff and/or skilled volunteers will visit your home to perform a home check-up, general maintenance, and minor repairs.
Check-up includes:
1. Change batteries or replace smoke detectors, CO alarms (2 times per year)
2. Change HVAC air filter (2 times per year)
3. Change burned out light bulbs (2 times per year)
4. Clean out dryer vent (2 times per year)
5. Check temp on hot-water heater (1 time per year)
6. Drain and refill hot water heater (1 time per year)
7. Check for, and repair * visible water leaks; repair dripping faucets, leaking toilets or running toilets (2 times per year)
8. Check and repair/replace weather stripping around doors and windows (1 times per year)
9. Check locks on doors (1 time per year)
10. Install window security (First visit)
11. Clean gutters (if home has gutters) (2 times per year)
12. Ensure safe ingress and egress is maintained. (2 times per year)
13. Cut back encroaching vegetation (2 times per year)
14. Ensure outside doorways and paths are well lit (2 times per year)
15. Repair decking and handrails if needed
16. Remove/repair obvious trip hazards
17. Seal holes, cracks and gaps in exterior to prevent pest infestation
18. Install reflective house address numbers (if needed) (First visit)
19. Check attic for signs of roof leaks
20. Replace/maintain caulking in wet areas to prevent water damage to walls and sub-floors.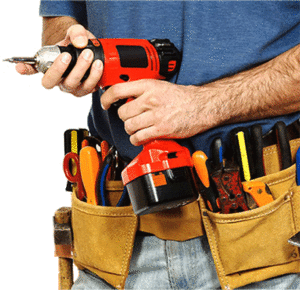 These basic maintenance items are based on the 25 Points of a Safe and Healthy Home developed by the Rebuilding Together and the National Center for Healthy Homes.
*Only visible leaks will be addressed. Plumbing problems in walls or under floors/foundations WILL NOT be repaired as part of the Maintenance Matters program.
Any additional repairs needed will be addressed on a case-by-case basis for additional charges.
Note: RTVOS is not a licensed contractor. No warranties are given with repairs.