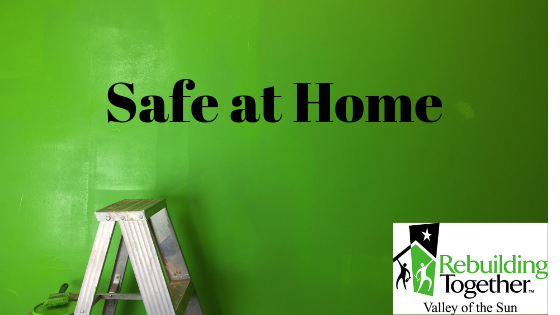 It only takes four hours...
What does it mean to be safe? The word probably brings to mind different things for each of us. You may think of a seat belt, or first responders, or an alarm system on your home. For others, the word may mean a crossing guard, a fence around a school yard, airport security, or our military. Most of you reading this are safe.
But for millions of Americans, and thousands of Arizonans, "safe" has a much different meaning. Safe means a full stomach. Safe means a job that pays the bills. Safe means a neighborhood without gangs. Safe means a home with running water, secure doors, and a roof that doesn't leak - all things most of us take for granted.
At Rebuilding Together Valley of the Sun, we are working hard to help those in need feel safe in their own home. Our volunteers build wheelchair ramps, install grab bars, repair roofs, fix plumbing, install smoke detectors, and many other repairs to ensure our neighbors' safety. But the work is great and there aren't enough hours in the day to meet all the requests for help we receive. That's why I am reaching out to you. You can help others by volunteering your time just four hours month.  You can rebuild lives by building a ramp or installing a grab bar. You can ensure a senior, veteran, or young child has a safe, healthy place to call home by donating your skills to repair windows, roofs, and plumbing issues. In just four hours, you can restore hope to someone who feels hopeless and forgotten. In just four hours, you can teach someone what it feels like to be safe.
Can you spare just four hours a month to help change the world?