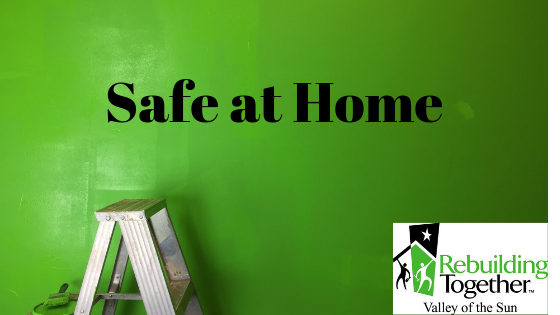 Heat kills. And Arizona's summer heat kills far too often – almost every week we hear of another heat-related death. While the majority of these are due to outdoor exposure to extreme heat, about 40 percent occur inside a home, whether because the air conditioner failed or the resident couldn't afford climate control, or lack of weatherization, or failing roofs. Of that 40 percent, most of the people affected are over the age of 65.
              Why do seniors suffer more than others during the summer? According to the National Institute on Aging, as people get older their bodies can no longer regulate temperature correctly. This can be attributed to lack of sweating, which is the body's primary cooling function; differences in the way seniors store fat; or chronic disease. Also, many seniors are on a fixed income and cannot afford to make the kinds of repairs needed to keep their homes cool.
A recent study conducted by Arizona State University reported that nearly one third of Arizona residents have adverse health effects related to heat each summer. Last year, the Maricopa County Department of Health reported 184 heat-related deaths. 66 of those who died were over the age of 65.  Investigation found that 77 percent of those individuals did not have a working air conditioner, 11 percent had air conditioning but were not using it (perhaps because the individual could not afford it), and 8 percent did not have electricity in their home.
The ASU study I mentioned above also found that more than a million Arizona residents report being hot in their homes. This does not have to be the case. There are many organizations working to help keep people healthy, including Rebuilding Together Valley of the Sun and our Safe and Healthy Homes program.
              Every time I hear about a senior -- or anyone -- dying from the Arizona heat, my heart breaks a little more. How can it be in this day and age that we are unable to provide such a simple fix to save lives? I hear these reports and I picture my grandma's sweet face and know that I would move mountains to keep her safe. That is why I am so passionate about the work we do at Rebuilding Together Valley of the Sun to help seniors stay cool and safe through the hot Arizona summers. Visit www.rtvos.org to learn about the work and how you can help move mountains to keep seniors safe.
Kelly Watson
Executive Director